Local Payment Device Controller Setup
How To Setup Payment Terminal with Local Payment Device Controller (PDC)
Local Payment Device Controller or Local PDC is a locally installed payment device driver and control service. It is most useful, when Store-and-Forward functionality is desired and installation of local software is practical. 
Store-and-Forward allows temporary storage of payment information in the event of internet outage. Normally, installing a Local PDC is a good trade off, since this functionality is built into the Local PDC. 

The chain of command, when using PDC, is as follows:
Point of Sale (POS) communicates with Local PDC
Local PDC communicated with the Payment Terminal
Local PDC communicates with Cloud9 Payment Gateway (C9PG)
C9PG communicates with Processors/Clearing Houses.
In this way, POS does not need to exercise low level payment terminal level control, using specific API of the payment terminal manufacturer. It is an elegant solution to abstract the complexity of direct payment terminal integration
Setup Payment Device Firmware
Install Payment Device Controller
Download the PDC for the correct operating system from the Downloads Portal.
Unzip the install file as necessary and install as normal for your operating system (e.g on Windows, run the EXE file)
Payment Device Controller Service
After the installation, PDC service should run and be visible in the bottom right of your Windows toolbar.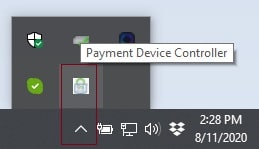 You can right click on the PDC Service to show the Settings and Tools menus
PDC Setup
Open the PDC Console by typing PDC into the toolbar search space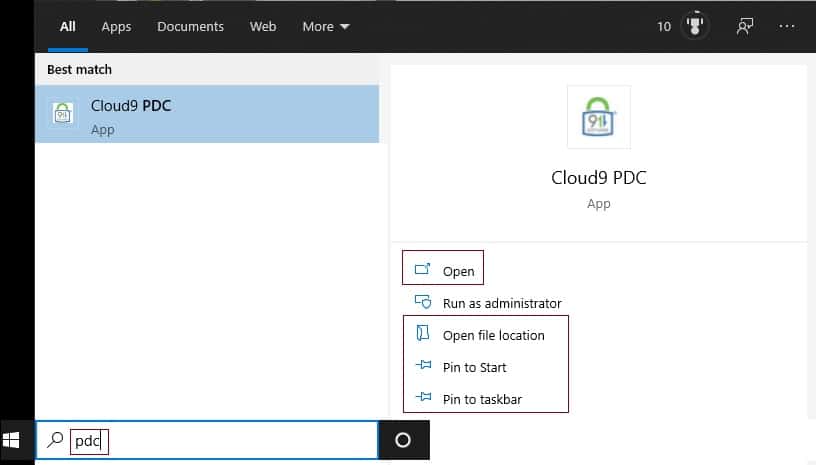 You can add it to the Start or the toolbar for convenience from here. 
Open the PDC Console by clicking on it. It will start minimized, so click on the toolbar icon to restore it.
PDC Communication Settings

Click Settings->Connection Configuration menu to enter Configuration Setup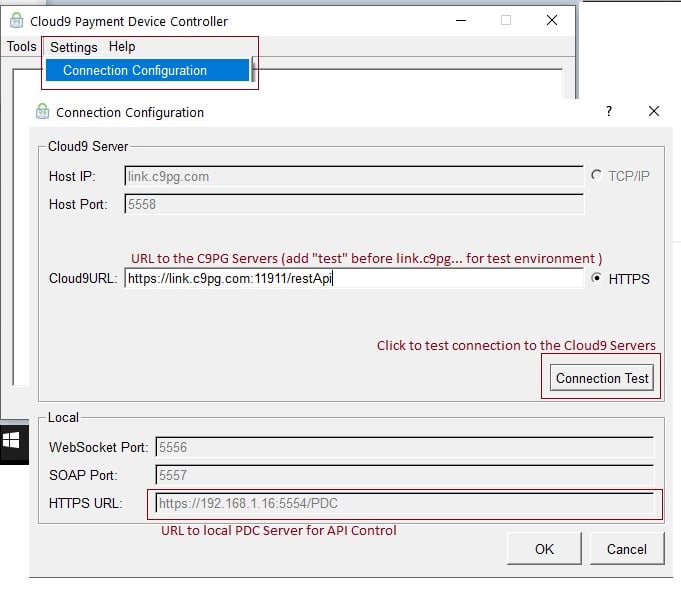 Try testing the connection to the Cloud9 Servers by clicking Connection Test.
Cloud9 & PDC API Connection
To communicate directly with Cloud9 API (without the help of Local PDC), use Cloud9URL
To communicate to the Local PDC using API, use HTTS URL
Click Cancel when Done.
Terminal Configuration
Click Settings->Terminal Configuration menu to enter Terminal Setup

USB or Serial or Bluetooth Setup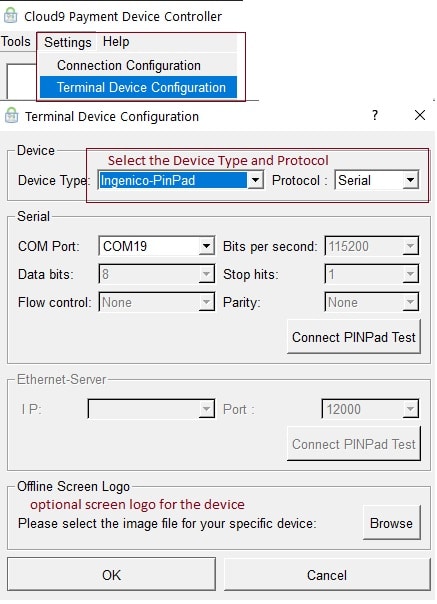 Ethernet Setup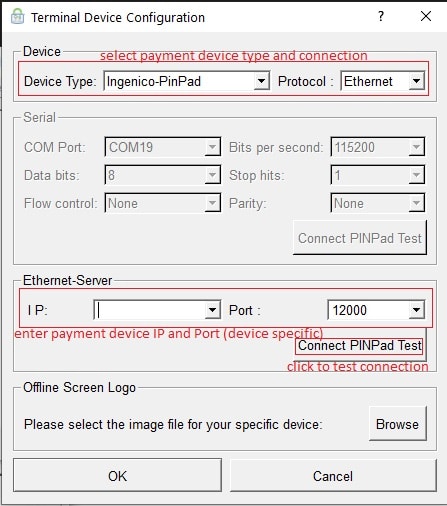 This information is needed by Local PDC to be able to communicate with the Payment Device via WiFi or Ethernet.
Click OK when done.